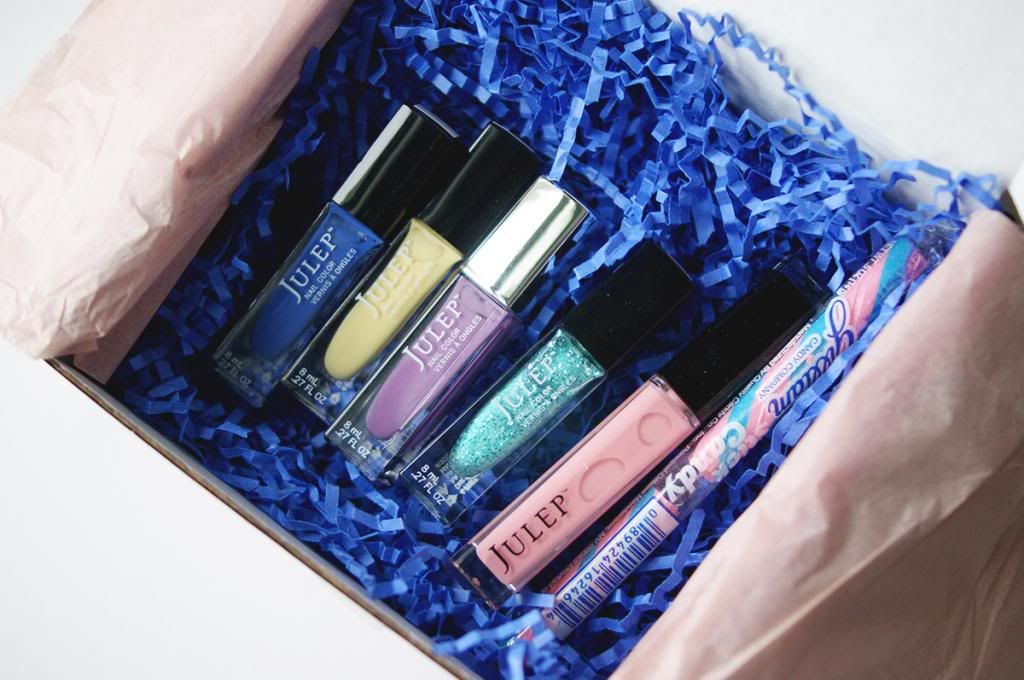 Time to show you what I got in this month's Julep Maven box! I was really excited about the colours in this collection. If you're not familiar with Julep Maven boxes, they are a subscription box for nail polish and other beauty products from Julep. The boxes cost $19.99 each (with free shipping) and usually you get 2 nail polishes and one other item (they often throw some candy in as well)! Julep polishes are sold at Sephora for $16/ea. so the value of these boxes is really fantastic!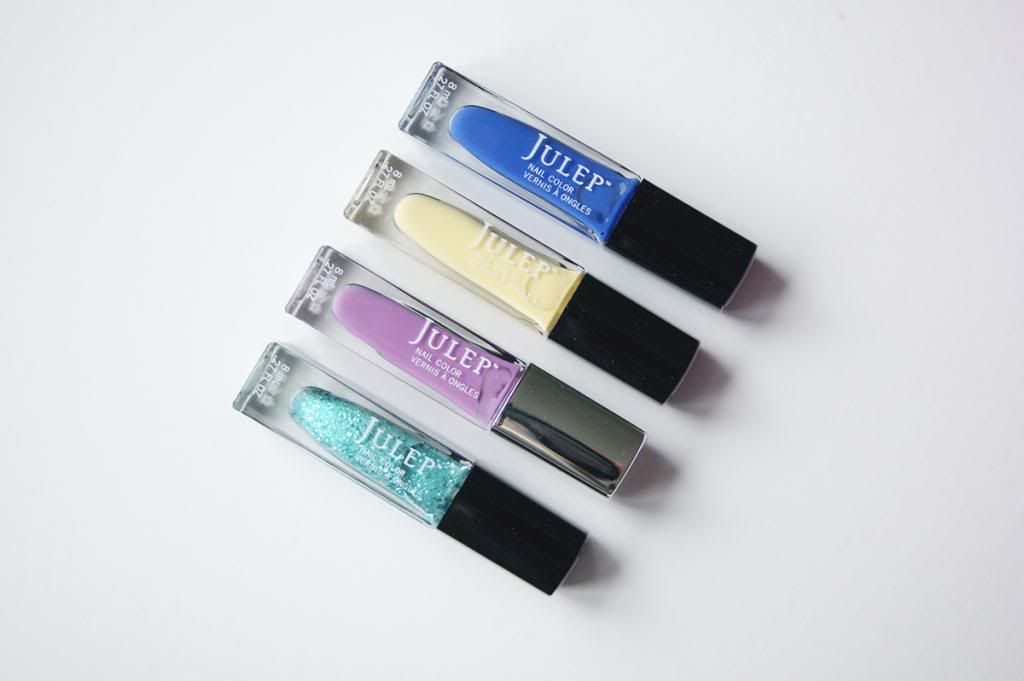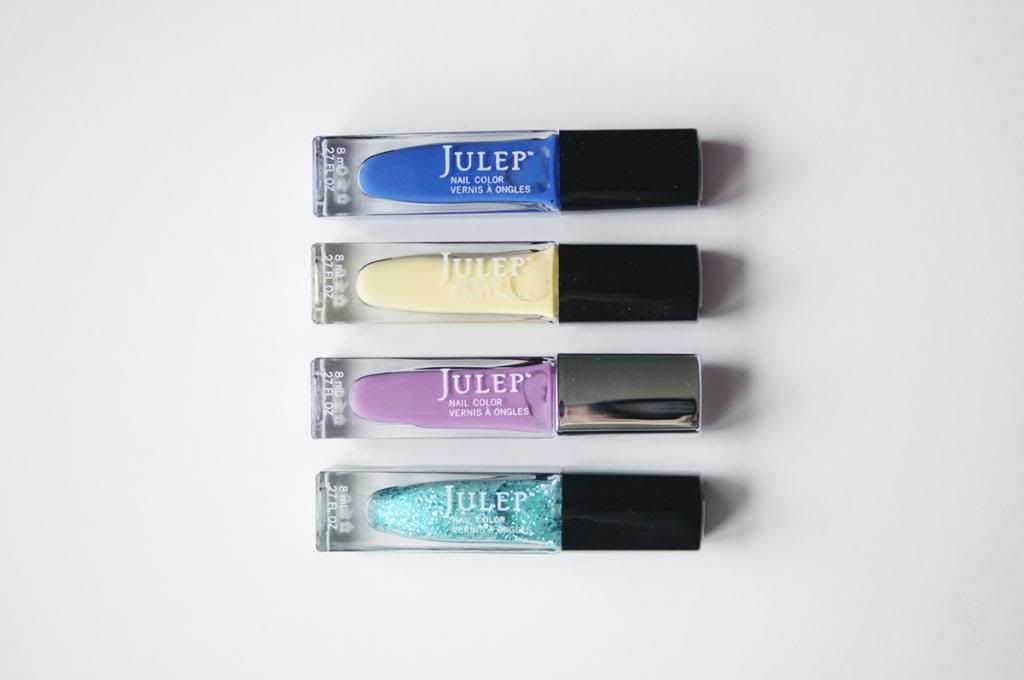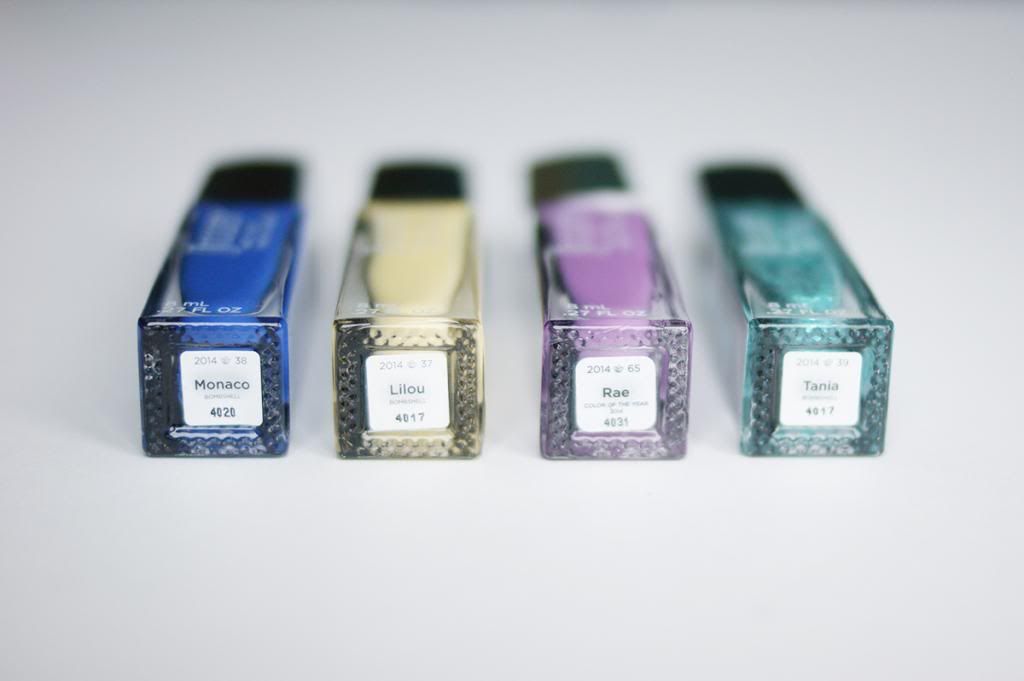 The box I chose this month was the Bombshell Box. This box included the shades Monaco - which according to Julep is Pantone's 2014 Colour of Spring, a mariner blue creme, and Lilou - a lemon chiffon creme. I also bought Rae as an add-on for $4.99 which is the Pantone Colour of the Year - a radiant orchid creme that is absolutely gorgeous. And last but most certainly not least, I used my Jules (rewards points) to add Tania to my box for free! Tania is the most beautiful mermaid teal glitter. I can not wait to use this one! I really am totally in love with all of the polishes in my box this month which doesn't always happen. I can't wait to use these colours all spring and summer!
My Maven box also came with a lip gloss and I chose the shade Graceful which is a creamy baby pink. It applies semi-sheer so you get a little bit of pink and some shine. I'm not really a lip gloss girl but I tried this on when I got it and it was really smooth and not sticky at all!
This might just be my favourite Julep Maven box I've received yet. All of the nail polish colours are absolutely stunning and the lip gloss is really pretty too! And the best part is, I got all of this for $24.99! If I had bought these products individually from Julep's website it would've cost me $72, so the value of this box is amazing!