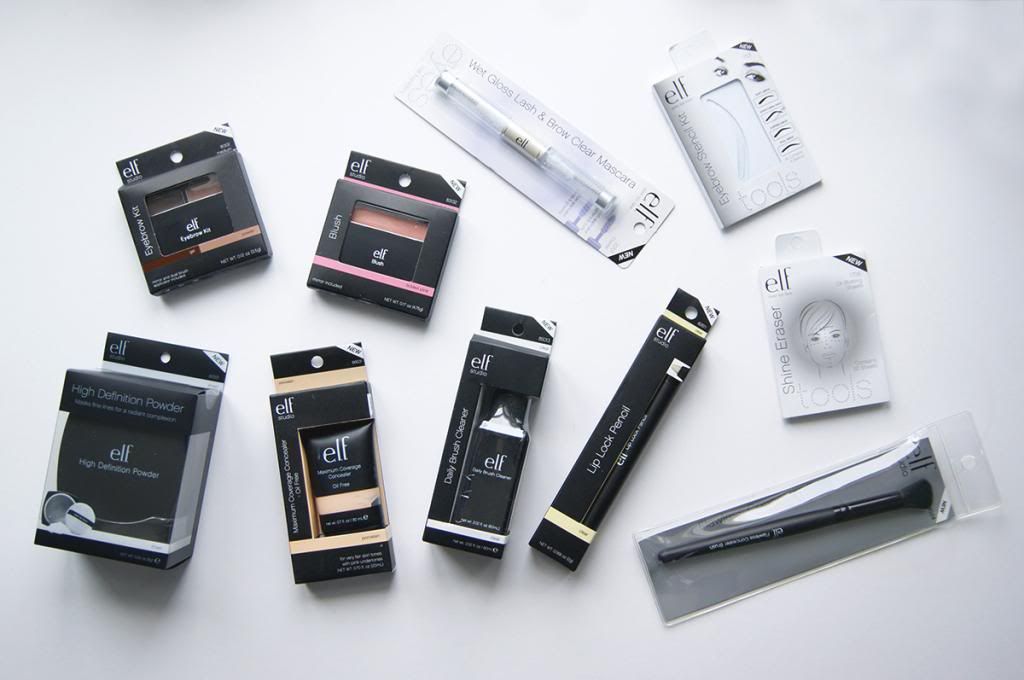 It's been a while since I've made an order from ELF, so when I noticed I was running low on a couple things from them a few weeks ago I decided to make another order! ELF products aren't sold in stores in Canada really, though you can find the odd product here and there in Winners or Marshall's. I prefer shopping online for ELF products though as there's usually a good coupon code to use or something and it's a good chance to try some new products!
The two main products I was sure to get were the Studio Brow Kit in Medium and the Essentials Wet Gloss Last & Brow Clear Mascara. I use both of these products every day for my brows and was running quite low on both of them! The brow kit has a tinted wax and a powder in it, and I use the wax first and set it with the powder. I then comb through my brows with the clear mascara to set them in place! I love both of these products and for a combined $4 it really can't be beat.
I also picked up a Studio Blush in Tickled Pink. I have one other Studio Blush and I really wanted to try another! I've only used this once so far but it's a really pretty light pink shimmery blush!
I got the Studio High Definition Powder since it is a very commonly talked about product from ELF. I've used it twice now and I am impressed with how matte it keeps my skin, but I'm not a fan of how it makes my foundation look when I apply it on top. I'm going to continue trying it out though and maybe I'll come up with an application technique that works for me.
Another new product for me that I got was the Studio Maximum Coverage Concealer in Porcelain. I have yet to try this but it looks like it might be a little too dark/yellow for me. I'll give it a try though and see how it goes!
On a whim I decided to try the Studio Daily Brush Cleanser for spot cleaning my brushes in between washes. I haven't really used this one yet either but I'll be testing it out soon!
As a girl who wears a lot of bright and/or dark lipstick, I thought the Studio Lip Lock Pencil might come in handy for me. I don't usually have a problem with lip products feathering on me but this might be a little extra preventative step for me just in case.
I got a couple products from the Essentials Tools line, the Eyebrow Stencil Kit and the Shine Eraser. The Eyebrow Stencil Kit I got just because I was curious about it since I've never used brow stencils before. Unfortunately all of the stencils in the kit were too narrow for my fuller brows. I got the Shine Eraser as well which are blotting sheets. I tend to get a bit oily in my T-zone throughout the day so I thought these might come in handy!
The last thing I got was the Studio Flawless Concealer Brush. I have one of these already but I absolutely love it so I picked up another. This, just like its name suggests, applies and blends concealer flawlessly. It works for under the eyes or on blemishes. It's super soft and fluffy and softly blends concealer into the skin. I use the one I have every day and sometimes get lazy with washing it so that's why I picked up another!
Have you tried any of these products from ELF? What were your thoughts on them?
And do you have any favourites from ELF? I'd love to know!