Valentine's Day is right around the corner. A time of the year to eat all the chocolate and sugar cookies you want, and wear all the red and pink imaginable! Well, at least those are the reasons I enjoy Valentine's Day. I thought I'd share some items that could be great Valentine's Day gifts to a friend, family member, or even for yourself!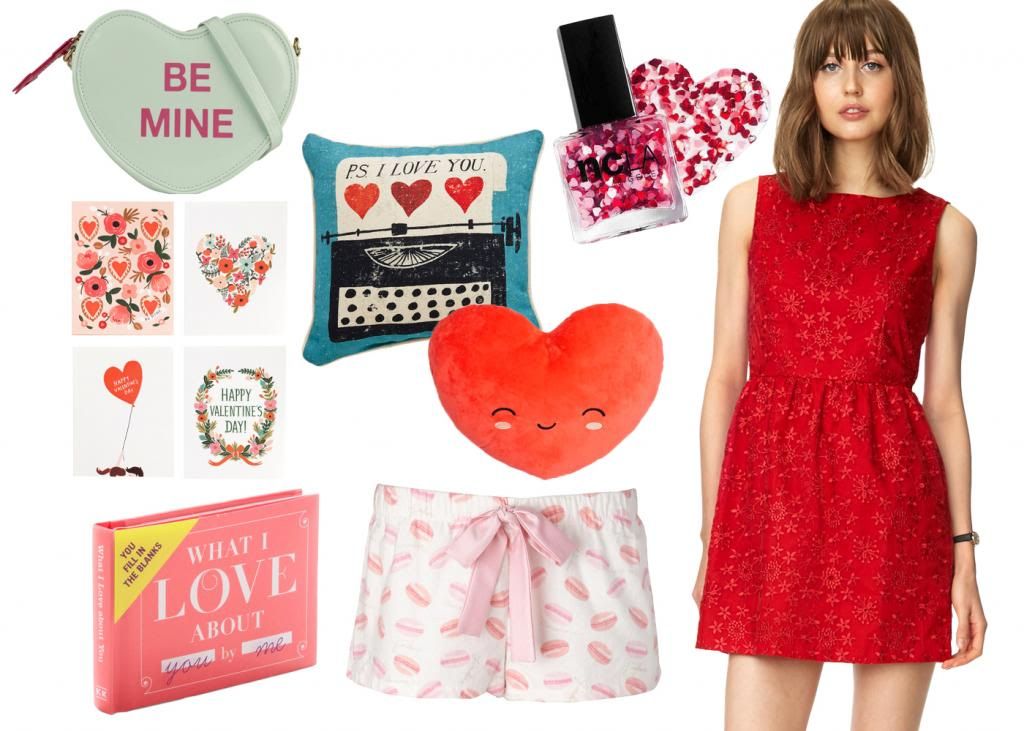 Be Mine Handbag
// I saw this handbag at Aldo a couple of days ago when I was out shopping and I thought it was so cute! It'd be perfect to use on Valentine's Day on a date or out with friends! It also comes in pink and yellow too!
Valentine's Day Cards
// One thing you can't do without on Valentine's Day is cards! This set of assorted cards from Rifle Paper Co. are so gorgeous. These are cards you'd definitely want to leave out and display for a little while, they're works of art!
What I Love About You Book
// My best friend actually gave me this book for my birthday last year, but it'd be perfect for Valentine's Day to tell someone everything that you love about them! The gift-giver fills in the blanks throughout the entire book and gives it to the receiver. This is one of my favourite gifts I've ever gotten, it makes me so so happy every time I flip through it!
Pillows (1/2)
// How cute are these throw pillows? Perfect to add a little comfy decoration to any room on Valentine's Day or year-round!
Macaron PJ Shorts
// Don't these pajama shorts just make you want to cozy up with some macarons and a cheesy rom-com on Valentine's Day?
ncLA Heart Attack Nail Polish
// This heart-shaped glitter would go perfect over any shade of pink, red, or even white for a gorgeous girly Valentine's Day manicure!
Red Floral Dress
// This textured floral dress from Forever 21 is the perfect Valentine's Day dress. Pair it with some tights, a cardigan, and some flats and you're ready to go!
Do you have any exciting plans for Valentine's Day? Or will you spend it relaxing and as a me-day? That's what I'll probably be doing but I'm looking forward to it!