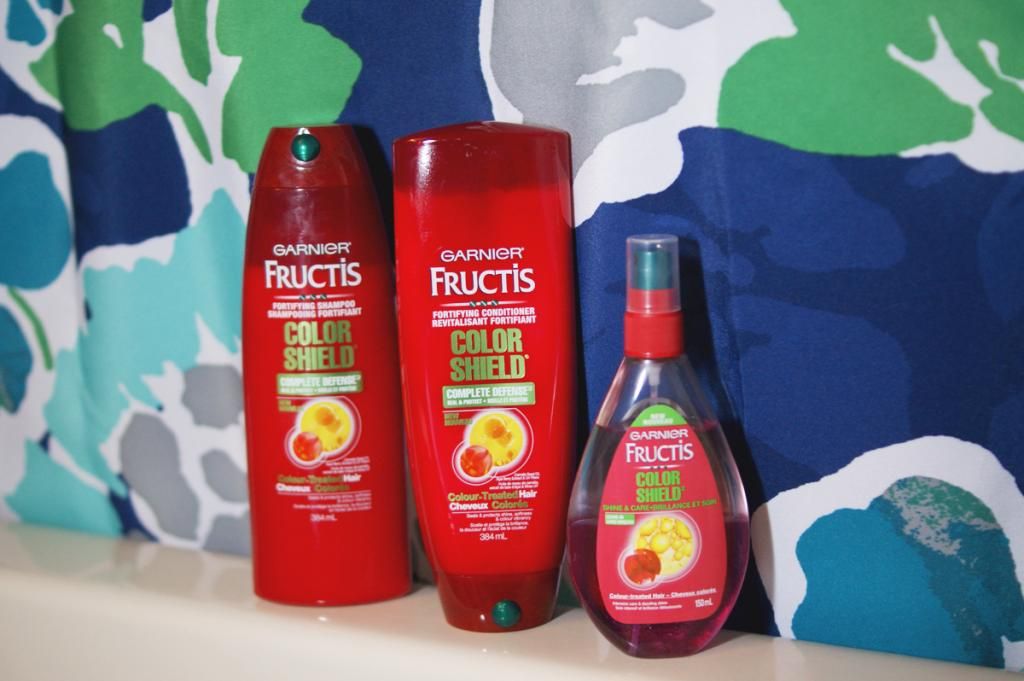 A couple of weeks ago I received the Garnier Fructis Colour Shield box from Influenster. I've been using the products for a couple of weeks now and thought I'd share my thoughts with you!
I've been using only Garnier Fructis shampoo and conditioner for most of this year, but this was a line from them I hadn't previously tried. This year I've been using and enjoying the Triple Moisture range, as well as the Passion Splash range.
The Colour Shield shampoo and conditioner claim to keep hair "bold and brilliant, silky and soft". In using this shampoo and conditioner I haven't noticed my hair colour fading any less than it usually does when using other shampoos and conditioners. I dye my hair every 4-6 weeks and I started using these products about 1 week after refreshing my hair colour. It has now been about 3 weeks since I dyed my hair and the colour doesn't seem any more vibrant or dull than it typically does at this stage. While this shampoo and conditioner did make my hair feel soft and clean, I don't find it particularly fade-resisting.
The other product I received is the Colour Shield Shine & Care Spray. This product is something I've really enjoyed using. I shake this up and spray it all over my hair - focusing on the lengths, not so much the roots - after washing and towel-drying it. It helps make my hair shiny and healthy looking and I find it also helps to detangle my hair when brushing it out wet. Also, although there is oil in this product, it is very lightweight and doesn't weigh my hair down at all or make it feel greasy.
Overall I don't think I'll be repurchasing the shampoo and conditioner when I run out of them, but I do plan on continuing to use them until they're gone. They're not a bad shampoo or conditioner by any means, but I do prefer the Garnier Fructis Triple Moisture and Passion Splash shampoos and conditioners. For the Shine & Care Spray, I plan to continue to use it and will likely repurchase it!
Disclosure: I received these products complimentary from Influenster for testing purposes.