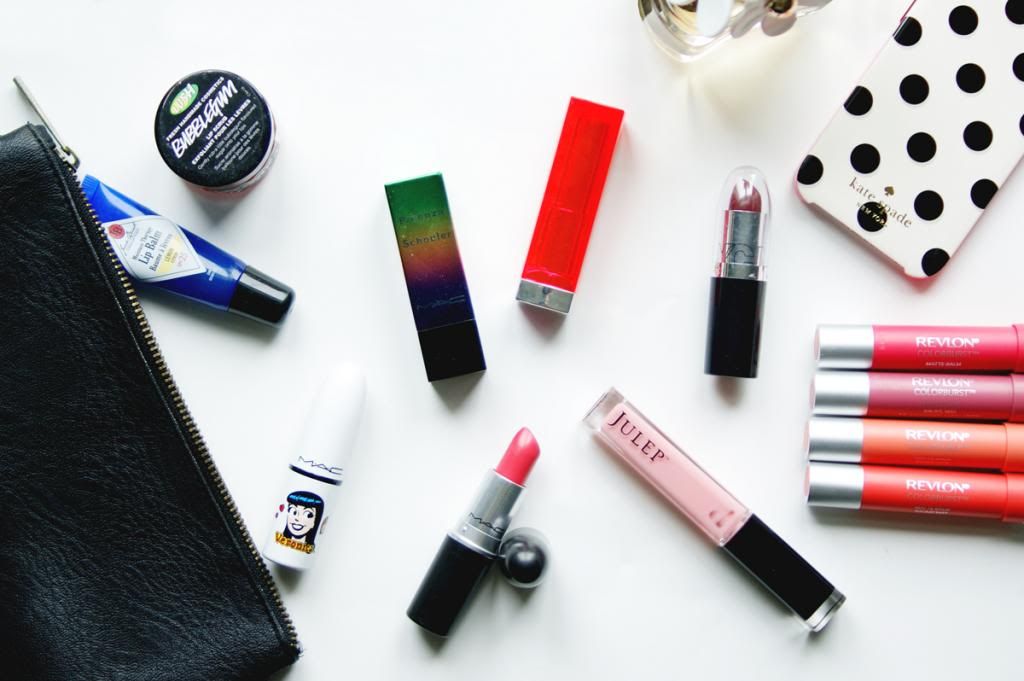 I thought I would do the Lip Product Addict Tag that Amelia Liana and EssieButton recently created since I'm quite the lip product junkie. It was hard to choose favourites for some categories but it was fun to do!
TAG QUESTIONS
1. Favourite balm/treatment?
My favourite lip balm to make my lips as soft as possible is the
Jack Black Intense Therapy Lip Balm
in the Lemon scent. This lip balm is so intensely hydrating and works great as an overnight treatment as well. And it has SPF 25! A favourite lip treatment is the
Lush Bubblegum Lip Scrub
. I frequently wear matte lipsticks and this keeps my lips free of flakes and dry patches!
2. Best eye-catching red?
This was really difficult for me to choose, but I ended up going with my MAC Ronnie Red lipstick. I bought this through someone on Instagram a couple of months ago since I missed out on the Archie's Girls collection. This is a gorgeous matte blue-based red and I absolutely love it!
3. Best luxury & best drugstore?
Best Luxury: My most recent MAC lipstick purchase, Mangrove from the Proenza Schouler collection! I didn't expect to like this colour as much as I do, but once I tried it on I fell in love. It's a gorgeous matte orange-red, and the packaging is so luxurious and beautiful!
Best Drugstore: I have to give this one to Maybelline Color Sensational Vivids Lipsticks! They're so intensely pigmented, some in a range of beautiful bright shades, and they have great lasting power! I have the shades Vivid Rose, Shocking Coral, and
Electric Fuchsia
and I love them all!
4. Best MAC lipstick?
This was another tough choice. I don't have many MAC lipsticks but I do really love all the ones that I have. I ended up choosing
MAC Toying Around
from the recent Playland collection. It's a stunning bright coral in an amplified finish and I love it!
5. The most disappointing?
I don't really have any really disappointing lip products because I obsessively read reviews of products before purchasing but I ended up choosing the NYC lipstick in Sheer Red. I bought this lipstick because emilynoel83 on YouTube always raved about it but it ended up not being the red for me. I'm just not a fan of the shade or finish on myself.
6. Liner - yes or no?
I only just bought my first lip liner a couple of weeks ago and even though I love it I'm going to say no. Just because I don't have much experience with lip liners and the majority of the time I don't wear one!
7. Best gloss?
I'm not a lip gloss girl at all. I ended up choosing my Julep lip gloss in Graceful. It's a creamy soft light pink shade and it's not goopy or uncomfortable on the lips.
8. Something extra!
For something extra I thought I'd mention the Revlon ColorBurst Matte Balms! I can't get enough of these. They're so bright and pigmented and very comfortable to wear! I have the shades Unapologetic, Elusive, Mischevious, and Audacious. If you haven't tried these yet I'd highly recommend them!
Are you a lip product addict like me? If you are, I tag you to do this too!