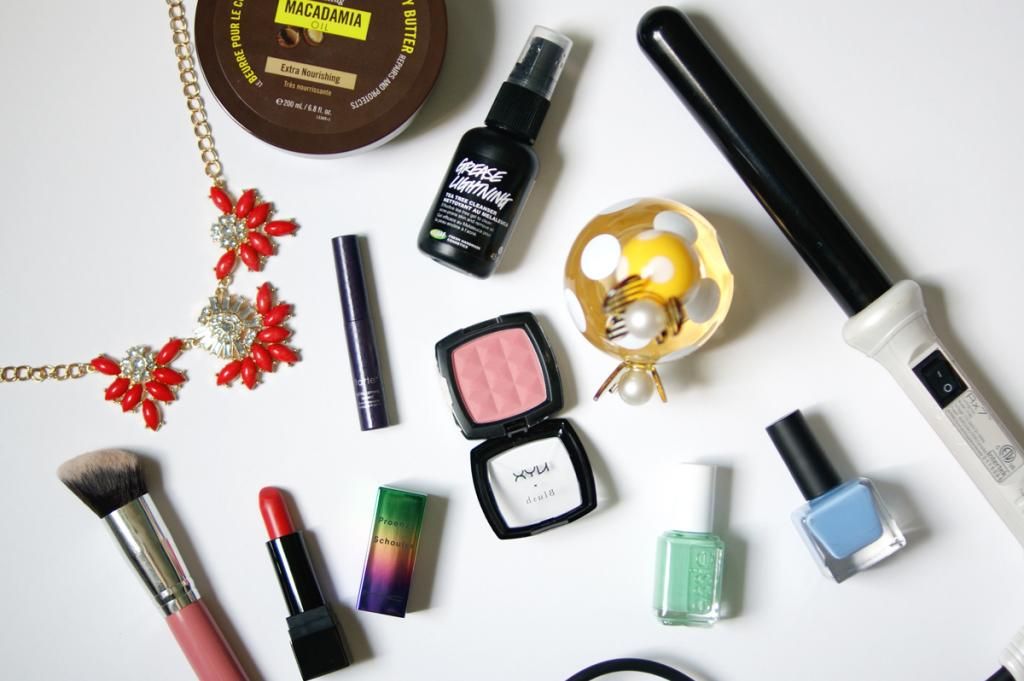 Marc Anthony Healing Macadamia Oil Body Butter / This month I've been using this body butter nearly every day. It's really moisturizing and also smells amazing.

Minicci Necklace / I got this necklace from Payless this month and I've been loving wearing it. I wear a lot of black and white so I love the colour this adds to an outfit. It's not too heavy of a necklace either so I can wear it all day without it bothering me. I really want to get a couple more statement necklaces like this for summer!

Tarte Lights, Camera, Lashes! Mascara / I got this mascara as a 100 point gift from Sephora this month and I've been loving it. I've pretty much only ever used drugstore mascaras (besides the odd sample here and there) but I'm seriously considering buying this mascara when I'm out of this sample. It makes my lashes so long and volumized!


LUSH Grease Lightning / I picked this up about a month ago and I've been using it almost every night this month as a spot treatment on blemishes. It helps clear them up and I like knowing there's no harsh chemicals in this product. It pumps out as a clear gel and I just dab it over any problem areas after washing my face at night!

NYX Mauve Blush / I'm a big fan of the NYX blushes and I picked up a new one this month! Mauve is a soft warm pink with a matte finish. It's such a lovely everyday shade that works with any look. It's also very nicely pigmented and lasts all day!
Marc Jacobs Honey Perfume / I got such a great deal on this perfume this month. I found it at Costco for only $50, when at Sephora this size of the fragrance retails for over $100! It has notes of pear, juicy mandarin, orange blossom, peach nectar, apricot, honeysuckle, honey, golden vanilla, and smooth woods. It's such a nice, fresh and fruity fragrace that is so perfect for the summery weather we've been having lately. And the bottle is too cute!
eBay Angled Synthetic Brush
/ I got some brushes from eBay in the mail this month and they're basically knock-offs of the Sigma Sigmax line. I'll be posting a full review on them but I've been really loving this angled synthetic brush for my foundation! It blends the foundation into my skin really smoothly and easily and makes applying my foundation quite fast!
MAC Mangrove Lipstick
/ I have completely fallen in love with this lipstick. I was never an orange lipstick person before this lovely tube came into my life but now I'm obsessed. This is such a beautiful matte orange-red. I feel like this lipstick really suits my complexion which I was surprised by! It also stays on for hours and hours. (
Review
)
Essie First Timer / I got this nail polish last spring but I wore it again this month and I had forgotten how much I love this polish! The polish is such a unique and beautiful colour. It applies smoothly and opaque in 2 coats and lasts quite well without chipping.
Urban Outfitters Dreamy / This nail polish is a beautiful powder blue/periwinkle polish with a very slight silver shimmer throughout it. I love periwinkle shades for nails and this is no exception! It did chip fairly quickly but I don't mind painting my nails often anyway.
Rx7 25mm Curling Wand
/ I got this curling wand for my 19th birthday (hauled
here
) but over the past couple of years I was only using it maybe 2-3 times a year. I used to be really slow at curling my hair but this month I've been experimenting some more with it and I've started curling it quicker by doing larger sections. Now I curl my hair a couple times a week and I love how it looks! You can see some pictures of my curled hair on my
instagram
!
What were some of your favourite products this month? Let me know below!