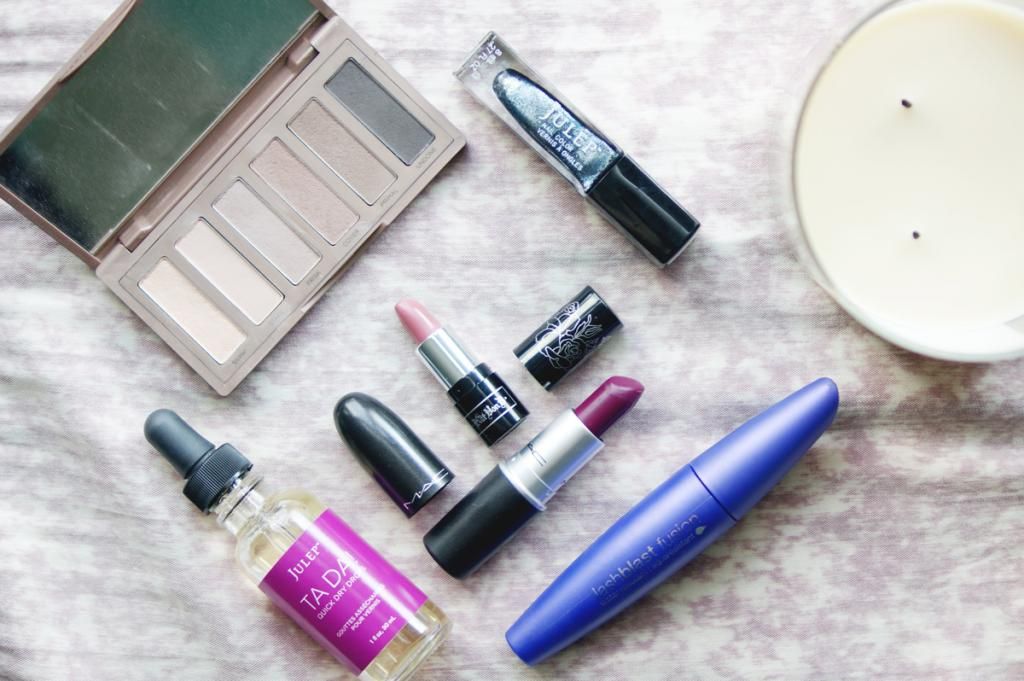 Happy October!!! October is my favourite month of the year. I love Halloween, I love the fall, and it's my birthday month! But before I get too into October, I thought I'd share my September Favourites with you all!
Urban Decay Naked2 Basics // I picked this palette up this past month and it quickly worked its way up to be a staple for me. It's been my go-to day-to-day palette for September and I've really enjoyed using it!
Julep Ta Da! Quick Dry Drops //
This came in one of my last
Julep Maven
boxes and I haven't painted my nails since getting it without using these! You just use the dropper to apply 1-2 drops of this to each nail after painting them and they dry so fast!
MAC Rebel Lipstick // Of course this lipstick needs to be mentioned. It's the perfect fall lip colour and I've been enjoying wearing this deep shade this past month!
Kat Von D Lovecraft Spellbinding Lipstick // Last month I found the Kat Von D Spellbinding Lipstick Set on sale at my Sephora so of course I picked it up! The set includes 10 mini lipsticks! The shade I've been wearing the most is this pinky-brown nude shade called Lovecraft. It's perfect for everyday wear!
Julep Kristen Nail Polish // I had this polish on my nails for a couple of weeks this month and I really liked the colour. In the bottle it doesn't look like much, but on the nails it's a gorgeous deep charcoal-teal with silver and teal glitter and it looks amazing in the sunshine!
CoverGirl Lashblast Fusion // I recently ran out of another tube of my beloved Clump Crusher mascara, and instead of repurchasing it again I decided to go for something a bit different! This is the Covergirl Lashblast Fusion mascara and it's great so far! It lengthens and volumizes my lashes without clumping them.
Bath & Body Works Sweet Cinnamon Pumpkin Candle // This post wouldn't be complete without mentioning a fall candle now, would it? I've burned through 2 candles this past month and I'm sure this will be the next one finished! It's such a nice, sweet yet spicy, fall fragrance that makes my house smell amazing!
What were some of your favourites this month? Let me know below!