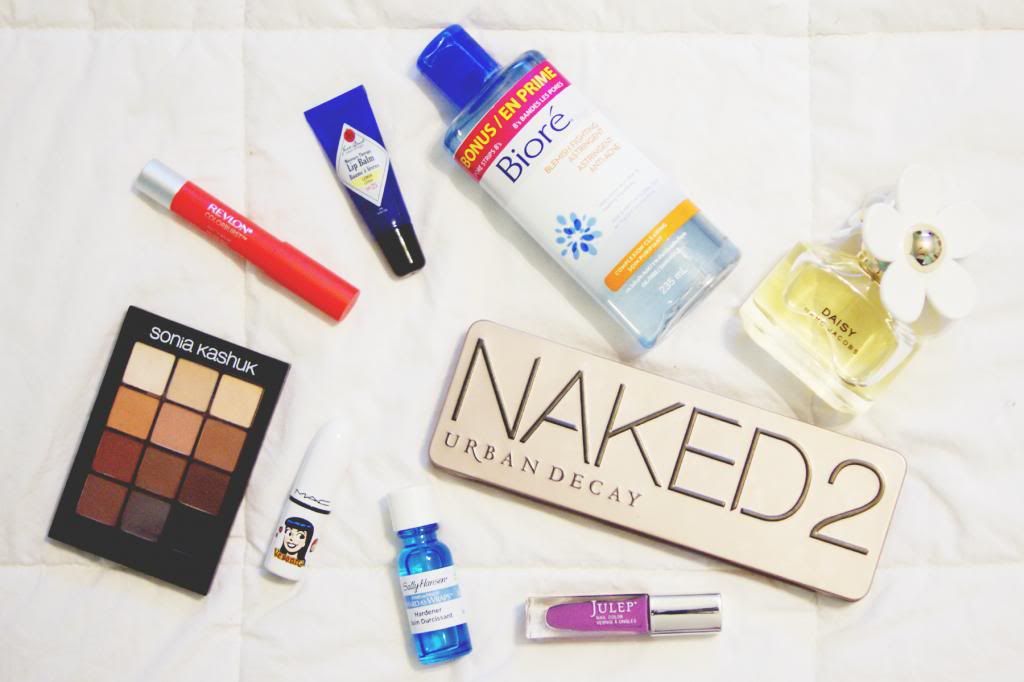 Sonia Kashuk Eye on Neutral Matte Palette / I bought this palette back in November but have never featured it on my blog. It's a fantastic palette with 12 matte neutral shadows that perfectly compliment any neutral look! A lot of palettes lack matte shadows so this really comes in handy to go with some of the shimmery palettes I have and love!
Revlon Colorburst Matte Balm in Audacious / I've been loving this matte balm in Audacious. Last month Elusive was in my monthly favourites and that has been a favourite this month as well, but I've been loving using this bright orange-coral shade!
Jack Black Intense Therapy Lip Balm in Lemon / I heard about this lipbalm from xsparkage on YouTube, as she's always raving about it. I was at Sephora one day and saw it by the checkout so I thought I'd pick one up! I definitely see what Leesha loves about this balm. It's so intensely moisturizing and it also smells amazing. I like to apply it at night before bed so I wake up with moisturized lips!
Bioré Blemish Fighting Astringent / I started using this astringent this month and I've been blown away by the results I've had with it. I've been using the Clean & Clear Deep Cleaning Astringent for Sensitive Skin ever since I was a preteen and started using acne-treating products and I feel like my skin has become immune to it or something because I never noticed any results from it anymore. On a whim I decided to try something new and this astringent clears up blemishes on my face so, so quickly. It also came with a bonus pack of blackhead strips which is always good!
Marc Jacobs Daisy Perfume / I got this perfume for my birthday in the fall but haven't worn it much since then since it is quite a spring fragrance. But now that it's officially spring I've been wearing it a lot more! I love this fragrance, it's so fresh and lovely!
Urban Decay Naked2 Palette / When I got my Naked3 palette last month I used it nearly everyday for an entire month. I wanted to wear something different this month, so I broke out my old favourite Naked2 palette! For the month of March I wore a lot of this palette, but still enjoyed wearing my Naked3, just not quite as often as I'd worn it in February.
MAC Ronnie Red Lipstick / I bought this wonderful lipstick from a shop on Instagram and I'm so glad I did. It's such a beautiful cool matte red and I can't get enough of the packaging!
Sally Hansen Hard as Wraps Hardener / I started using this as a base for my manicures this month and my nails look so much better. My nails were really dry and always peeling and cracking, but they're much more solid and healthy now!
Julep Rae Nail Polish / This came in my March Julep Maven box and it's Julep's take on the Pantone Colour of the Year - Radiant Orchid. It's such a beautiful colour for spring!