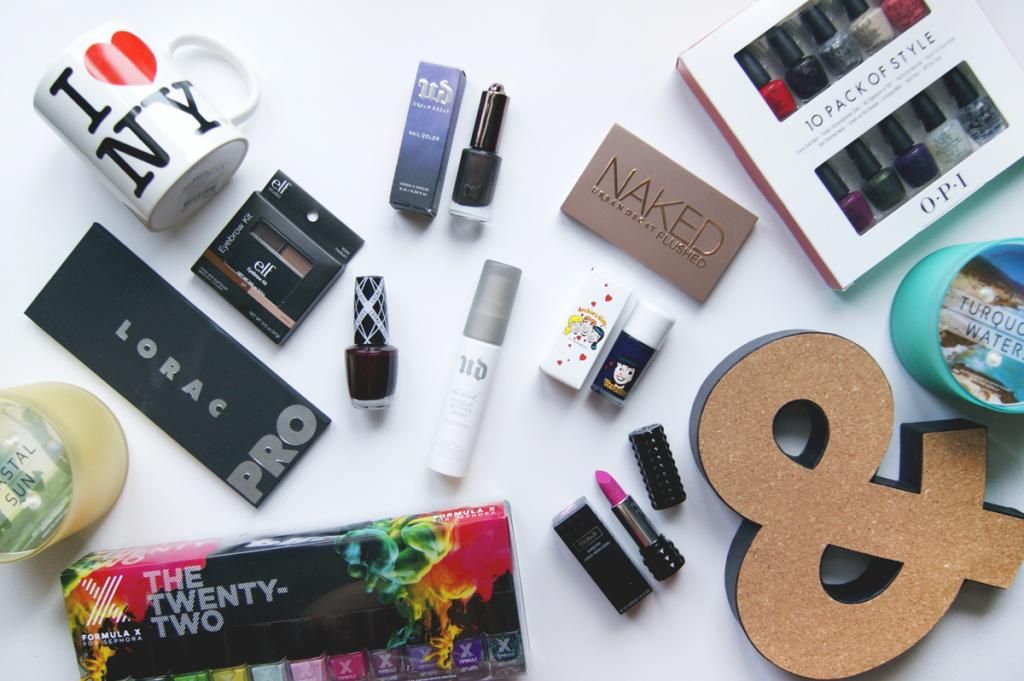 Hi everyone! So the week of July 14-21 I was in America visiting a friend and we ended up doing quite a bit of shopping. I also got to go to Ulta for my first time (we went to 3 actually) which was so exciting for me!! I thought I'd share the beauty things (plus a few extra items) that I bought!
I'll start off with the things I bought at Ulta! One of the things I knew I 100% wanted to buy on my trip was the Lorac Pro Palette. Lorac used to be sold in Sephora stores (and in Canada) but now Lorac is only at Ulta I believe, so I finally got to buy it! I was tempted to buy the new Lorac Pro 2 Palette but I restrained myself. At Ulta they were selling a 2-pack of travel-sized bottles of Urban Decay De-Slick Setting Spray and since I had never tried a setting spray but wanted to, my friend and I split on the 2-pack so we each got a little bottle of it. Something else I wanted and ended up buying at Ulta was the Urban Decay Naked Flushed Palette in Streak. I own the Urban Decay Revolution Lipstick in the shade Streak so I thought it'd be nice to get the corresponding cheek palette and I've really been enjoying it so far! I also got some nail polish at Ulta. I really wanted to try quite a few shades from the new OPI Coca Cola collection so I ended up buying the OPI 10 Pack of Style of the Coca Cola Collection. This pack includes 8 of the shades from the collection, as well as OPI's base coat and top coat. Another couple of polishes I bought which I found in the clearance section were Urban Decay Nail Polish in Blackheart and OPI I Sing in Color from the Gwen Stefani line.
Now, onto my Sephora purchases! A new product I wanted to keep my eye out for in Sephora was the Kat Von D Studded Kiss lipstick range. I ended up finding 5 or 6 of the shades on a display for sale and ended up buying one! I got the Kat Von D Studded Kiss Lipstick in Backstage Bambi. This lipstick is gorgeous but I'll be doing a separate post all about it! At Sephora I also found the Sephora Formula X The Twenty-Two Nail Polish set which includes 22 mini bottles of the Formula X polishes! As a nail polish junkie I couldn't resist this at over 50% off. I also hadn't tried the Formula X polishes yet so this is such a great way to try a bunch of them!
The rest of the items here are from a few different places. At Target I bought a new ELF Eyebrow Kit in Medium as it's my favourite product to use on my brows and I'm nearly out of the current one I'm using. I also found this cork ampersand at Target and as a design nerd and ampersand collector I couldn't resist it! At a CCO we went to on our first day of shopping I found this MAC Nail Polish in Double Trouble from the Spring 2013 Archie's Girls collection. I was so excited to find something from this collection!! We of course also went to Bath & Body Works and I had a gift card to spend there so I bought two 3-wick candles in the scents Coastal Sun and Turquoise Waters. One thing I forgot to photograph (because it was already in my bathroom) was a bottle of It's a 10 Miracle Leave-In Product which I picked up at Nordstrom Rack. And last but not least, on our layover back to Toronto we were at Laguardia Airport in New York and I had to get an I <3 NY mug!
I hope you enjoyed looking at/reading about all the items I picked up! I'm considering making a post with some photos of my trip so let me know if that's something you might want to see!